Recently I needed a gift on a quite short notice and then I remembered the double knitted potholders.
After all I still had some cotton thread (thinking of heat resistance and so on) and designed quickly a rosebud pattern (see links below).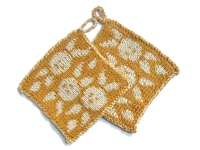 The potholders have – as double knitted items always have – the pattern on one side …
… and the inverted pattern on the other.
By the way, the potholders were well received ;-)

Links:
Double Knitted Potholders (Free Knitting Patterns – Heart Double Knit Hot Pad)
Here at unikatissima:
Rose bud pattern (JPG file, ~ 128 KB)