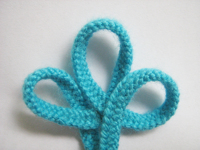 I found a site with a cute Kumihimo flower hair pin that is made from a beautiful Japanese knot.
On the photo you can see my Kumihimo cord which I want to use to make such a Kumihimo flower but the cord isn't finished, yet.
I think that I will embellish it later with some beads because the single-coloured cord will possibly look bland.

Links:
Kumihimo Flower Hair Pin
The instruction for it has two parts:
Knot tutorial part 1
Knot tutorial part 2
Here at unikatissima:
Entries with the tag 'kumihimo'
The Treasure Knot