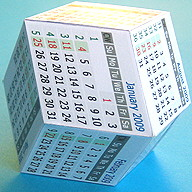 I find this 12-sided calendar a nice idea for a gift.
It is made for 2009 but you can adapt it to 2010 from the blank template yourself, possibly even handwritten and embellished with funny sketches.

Links:
Rhombic Dodecahedron and Calendar 2009: paper strips for plaiting
There is also a German version.