http://www.unikatissima.de/shop/?p=19 (back to normal view)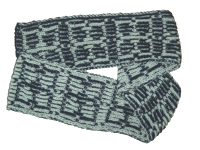 Price / Preis:
free / frei
Shipping / Versandkosten: $ 0,00
Description:
I devised a technique to knit two-coloured patterns in brioche stitch and this is the first pattern of this kind.
The pattern can be repeated horizontally and vertically.
The pattern repeat itself is 28 stitches x 56 rows, can be repeated endlessly in both directions and can therefore easily be used for many purposes, as shawls and scarves, totes (must be lined), throws and even clothing with simple patterns.
As you can see on the pictures the pattern has a 'normal' patterned side and the inverted pattern on the other.
And because it is brioche knitting nothing curls and the fabric is wonderfully soft.
To make it easy for you to follow the pattern, too, I put three instructions to the same pattern into my PDF file:
a text instruction, just as usual
a text instruction with separators where you can put your stitch markers and
a chart (I always prefer charts ;-))
Beschreibung:
Ich habe eine Technik entwickelt, mit der man zweifarbige Muster im Patentmuster stricken kann und dies ist das erste Muster seiner Art.
Das Muster kann horizontal und vertikal wiederholt werden.
Der Mustersatz selbst hat 28 Maschen x 56 Reihen, kann in beiden Richtungen endlos wiederholt werden und deshalb für viele Zwecke verwendet werden, wie Schals und Tücher, Taschen (müssen gefüttert werden), Decken und sogar Kleidung mit einfachen Schnitten.
Wie Du auf den Bildern sehen kannst, hat das Muster eine 'normal' gemusterte Seite und das invertierte Muster auf der anderen.
Und weil es Patentstrick ist, rollt sich nichts ein und der Stoff ist wunderbar weich.
Um es Dir einfacher zu machen dem Muster zu folgen, habe ich drei Anleitungen zu dem selben Muster in der PDF-Datei:
eine (englische) Textbeschreibung, wie dort üblich
eine (englische) Textbeschreibung mit Trennzeichen, wo man Maschenmarkierer setzen kann und
einer Strickschrift (ich ziehe Strickschriften immer vor ;-))
Hinweis: In meinem deutschen Blog findest Du die Übersetzungen der wichtigsten Abkürzungen, damit Du die Anleitung auf jeden Fall nutzen kannst.
Price / Preis: free / frei
Shipping / Versandkosten: $ 0,00
Links / Links:
The pattern can be found in my English blog: Brioche Pattern Knitting
Das Muster findest Du in meinem deutschen Blog: Patent-Musterstricken
Direct download / Direkt herunterladen:
Brioche Pattern Knitting – Jade
(PDF file, ~ 620 KB)
ravelry / ravelry:
Brioche Pattern Knitting – Jade
For discussions about the pattern see also the group unikatissima at ravelry.
Zu Diskussionen über das Muster s. auch die Gruppe unikatissima bei ravelry.
Terms / Bedingungen:
My terms of use apply.
Meine Nutzungsbedingungen gelten.
More pictures / Mehr Bilder:
Permalink
|
Trackback