While searching my instructions I found Positive – Negative Pumpkin! back and thought: 'Yes, that's exactly right for a snowman'.
It's cute, isn't ist??

You need a coloured card for the background, white paper, pencil and scissors (or X-acto knife).
I always need an eraser, too ;-))

First I trimmed the paper to the right size.
I left a small border to the edge of the actual card because I like it better this way.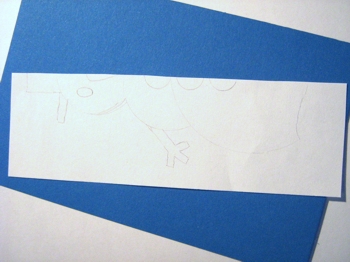 Then I sketched my snowman.
I made a PDF file (~ 55 KB) from my snowman template, so you can make your own snowman card :))

Here I just layed the elements out – they still have to be glued on.
Finally I pricked two holes in the card left and right of the neck and pulled two threads of wool through, that I knotted under the snowman's 'chin'.
I still like him everytime I see him ;-))

Links:
Template for snowman PDF file (~ 55 KB)
Positive – Negative Pumpkin! – scroll down to 'Kid's Korner'