As said before, I like to play around with weaving.
The other day I thought: Why not weave a ring?
I think that it worked out amazingly good ;-))

Material:
Yarn
Needle
Finger replacement ;-)
That is a roll of firmly rolled paper, it must be a little broader than your finger.
What to do:


Wind the yarn around the finger replacement and knot.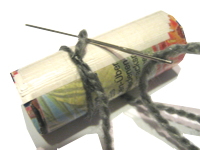 Then wind the next round, in doing so pass the yarn under itself.

Repeat the last step as long as you reach the ring's width.

Now begin to weave: pass the yarn over and under the threads.

And that's how the rings can look.
You have now a ring that you can embellish, e.g. with buttons or beads.
This technique surely can be enhanced, but it is fun already :)
Have fun!