Once I saw the Worm Scarf and having read the instruction for the 'worms' I thought that you can knit great fringes this way.
I begun with wristwarmers and after having finished them they looked like the sea anemones called Actinia.
Then I was hooked and knitted an Actinia headband, an Actinia ring and an Actinia brooch (see pictures below).
It is soooo much fun ;-)
And for all this items I wrote a tutorial. You can find the link below at the links.
This is the headband.
It is just possible that there are slightly too much fringes!?
;-)
My Actinia ring – cute, isn't it?
That is the brooch. It looks great on my black overcoat.
The Actinia wristwarmers and ring can easily be worn over woollen gloves if it's really cold.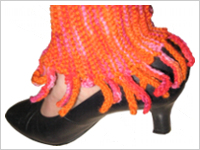 I haven't done the Actinia anklewarmer yet, I made the picture with my not yet sewn wristwarmer.
Looks great, doesn't it?

Links:
unikatissima's Englisch tutorial for Actinia (PDF – ca. 400 KB)
(with explaining photos)
unikatissima's German tutorial for Actinia (PDF – ca. 400 KB)
(with explaining photos)
There you find instructions on how to

knit items with fringes,

add knitted fringes to finished items,

knit the wristwarmers,

knit the headband,

knit the ring,

knit the brooch and

knit an I-cord.
I also added ideas for more ways to befringe items.