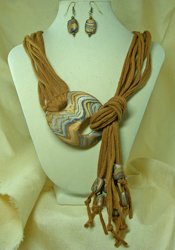 The fabric necklace with polymer clay clasp makes me think of the t-shirt necklace :)

Links:
Fabric Necklace with Polymer Clay Clasp (TShirt Necklace with Polymer Clay Clasp and Matching Earrings)
=> not a tutorial
Here at unikatissima:
Fabric Necklace with Beads
I've presented before the self-made hook and eye clasp, I find this tube clasp still better :)

Links:
Tube Clasp (Coil Clasp: A Tube Clasp for Maillers)
via: Tutorial … Tube Clasp — www.mailleartisan… that is cool
Here at unikatissima:
Self-made Hook and Eye Clasp
Many pieces of jewelry like necklaces or bracelets need some kind of closure. Purses do, too, journals perhaps. Maybe you crochet an iPod cozy that should be closable.
You can use pre-made closures (which I mostly don't like), but you can make a self-made shank button match just as you like.
For my bracelet bracelet *Little Black Dress* with the beaded spiral bead I made such a shank button and it worked out really fine.

Links:
Beaded Shank Button (Tubular Herringbone/Ndebele)
Here at unikatissima:
Beaded Spiral Beads