For a certain time I worked tubular nets, e.g. to make necklaces like the ones on the photo.
I find them beautiful and that a simply eye catcher like the beaded freeform bead is enough. Additionally they are wonderful soft because the tubular net is so elastic.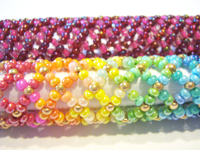 You can use tubular netting as well to bead glass tubes like at the bead and wire wall vase or to bead little bottles.

Links:
TubularNet
Netz-Ketten (German) (short description, scroll down to 'Netz-Ketten')
Net technique (German) (not tubular)
Here at unikatissima:
Bead and Wire Wall Vase
Beaded Bottle