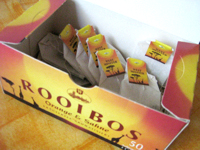 I'm collecting nearly everything (and that's how it looks here, too ;-)) and from now on I will collect used tea bags, too, to make beautiful envelopes from.
I'm really curious about it. ;-))
On the photo you see my Rooibosh tea bags. I find that the Rooibosh tea gives the most beautiful colour, a very warm red-brown :)
By the way it must look great, too, if the tea bags are sewn together and/or if they are embellished after assembly, e.g. by embroidering, painting or stamping them.

Links:
Recycling Tea Bags into Art Projects: How to Create Tea Bag Envelopes
"Tea Ceremony" – sewn tea bags
(via Wewer Keohane)
Sas Colby Teabag Art Discourse – stamped tea bags
T-Bag – Tea Bag Designs – painted tea bags
Here at unikatissima: Paper Crazy Quilt – embroidered paper