Recently I knitted more often (mostly mazes and cellular automaton patterns) and got some little helpers together on the spur of the moment.

The first is a take-those-threads-away (I simply don't know the name of this item!) for two-coloured knitting, that I made from a plain piece of wire: …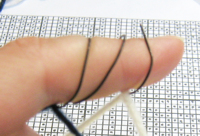 … simply bend the wire twice around the finger, hook the threads into and begin knitting.
The second are paper clips used as stitch markers…
…that I hooked in every 10. stitch, everywhere where the decimal lines from the pattern are.
I selected a different coloured paper clip every five clips, that helps to orientate in the pattern faster.
For the partly chaotic cellular automaton patterns it can be a real help.
And the last are my post-it notes I use to mark the row I'm working on.
Some people use rulers but the post-its stick better to the paper and if necessary I can take it with me without having to mark the last row.
However I noticed that I have to change the notes quite often because the glue gets weak from the constant tackling and untackling.

Links:
At unikatissima:
Entry concerning the maze pattern generator
Maze Pattern Generator
Entry concerning the pattern generator (cellular automaton)
Pattern Generator (Cellular Automaton)